Inspired by a facebook post from a friend of mine, a translator and long-time resident of Japan.
Disclaimer: I've been teetotal since 1969 and have no personal experience of sake, other than it smells divine to me. If I were a drinker, I would love to sample sake in all its many permutations.
One thing to note: the Japanese word sake (酒) encompasses all types of liquor. The official word for the fermented rice wine that is under consideration here is 日本酒 (nihonshu), literally "Japanese liquor."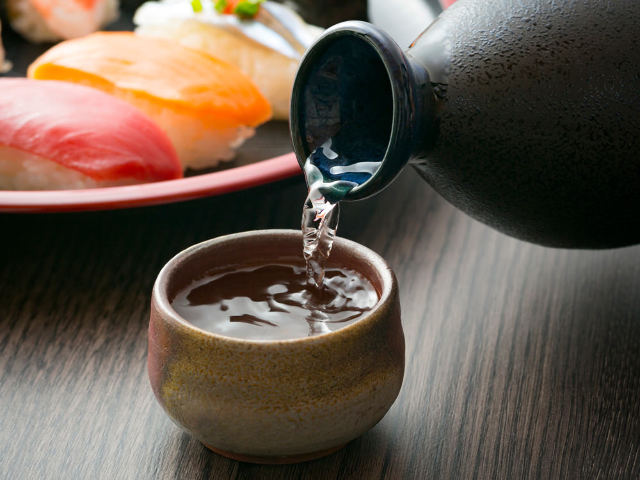 From a Japanese article about basic understanding of sake:
One of the charms of Japanese sake is that it can be tasted at a wide range of temperatures, from cold to warm. In fact, sake changes its fragrance and taste depending on the temperature. For example, when cooled, the fragrance becomes gorgeous, and the mouth feel becomes sharp. In addition, the umami¹ becomes lighter and the alcoholic sensation may be less. On the other hand, warming spreads the scent, makes the mouth feel mellow, increases umami, and spreads the sweetness. In this way, the same liquor has completely different aromas and flavors depending on the temperature. If you understand this, you will be able to know at what temperature to drink depending on the type of sake.
The above screen capture shows the various temperatures at which sake can be served. From the same Japanese website linked above, a key to understanding:
熱 (Netsu) – Hot temperatures
55° C (131° F)
飛び切り燗
tobikiri-kan (extra hot)
50° C (122° F)
熱燗
atsu-kan (hot)
45° C (113° F)
上燗
jōkan (warm)
温 (Yutaka) – Warm temperatures
40° C (104° F)
ぬる燗
nuru-kan (lukewarm – literally "slimy hot")
35° C (95° F)
人肌燗
hitohada-kan (human skin warm)
30° C (86° F)
日向燗
hinata-kan (sunny warm)
常温 (jōon) – Normal temperature
20° C (68° F)
前後 冷や
zengo hiya (almost cold)
冷 (hiya) – Cold temperatures
15° C (59° F)
涼冷え
suzubie (cool)
10° C (50° F)
花冷え
hanabie (flower cold)
5° C (41° F)
雪冷え
yukibie (snow cold)
Other charts include other temperatures, and there may be still more that I'm not aware of:
-10° C (-10° F)
霙
mizore (sleet cold)
A simple search on the internet for facts about sake will turn up encyclopedic volumes of information, guides, suggestions, and opinions about the various kinds of sake, how they are to be served, what rituals to observe and in what circumstances, what temperature they are best enjoyed at, which foods various kinds of sake should be served with, and on and on to the lemniscate – clearly the oenophiles and beer afficionados have their enthusiastic Japanese counterparts.
For myself, I won't be able to explore all of these wondrous variations in this life, but if you can, I hope that you find great joy in the exploration.
The Old Wolf has spoken.
---
¹umami is often referred to as the "fifth taste," along with sweet, sour, salty, and bitter. Meaning essentially "savoriness" in Japanese, according to Merriam-Webster, "umami can be experienced in foods such as mushrooms, anchovies, and mature cheeses, as well as in foods enhanced with monosodium glutamate, or MSG, a sodium salt derived from glutamic acid."